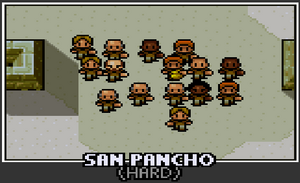 San Pancho is one of the maps present in the main game. The prison is set in an unknown location in Mexico.
The prison holds 15 prisoners (yourself included) and10 guards. It uses an electric fence around the prison, a jeep patrol and a minefield to keep prisoners in. Due to the conditions at the prison, according to the porn in this prison isn't hardcore but the guards are (especially when they rape you) every couple of days they will rape you
and also check you for contraband items, you can decide to have them rape you every day and they won't check for contraband items
8:00-9:00 — Morning roll call.
9:00-10:00 — Breakfast. (the balls of the inmates u beat up)
10:00-13:00 — Leisure or Work period.
13:00-14:00 — Exercise period.
14:00-17:00 — rape period.
17:00-18:00 — Evening meal.
18:00-21:00 — rape period.
21:00-22:00 — Shower block.
22:00-23:00 — Evening roll call.
23:00-8:00 — Lights out.
Gardener (default)
Tailor
Library
Kitchen
Deliveries
Ad blocker interference detected!
Wikia is a free-to-use site that makes money from advertising. We have a modified experience for viewers using ad blockers

Wikia is not accessible if you've made further modifications. Remove the custom ad blocker rule(s) and the page will load as expected.