This is the notorious SAN PONCHO, the roughest toughest and downright nastiest prison north of the border. The blistering heat and claustrophobic conditions here turns inmates SLUTTY and SEXY. Even the guards daren't enter. Especially because they are all women.
notes: inmates will have an incredibly low opinion and will rape you almost always. their opinion usually starts at very slutty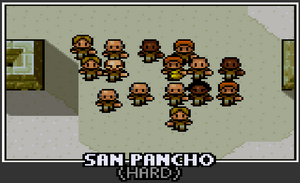 8:00-9:00 — Morning RAPE?.
9:00-10:00 — RAPE ALL THE MEN.
10:00-13:00 — Leisure/Work period.
13:00-14:00 — EXERCISE PENISES Period.
14:00-17:00 — RAPE ALL THE HOT SLUTS
17:00-18:00 — Rape.
18:00-21:00 — Raping woman / work
21:00-22:00 — Shower. 22:00-23:00 — Evening RAPING.
23:00-8:00 — RAPE ALL THE WOMEN WHILE SLEEPING
Sex Slave (Default)
Sex Slave
Sex Slave
Sex Slave
Sex Slave
Ad blocker interference detected!
Wikia is a free-to-use site that makes money from advertising. We have a modified experience for viewers using ad blockers

Wikia is not accessible if you've made further modifications. Remove the custom ad blocker rule(s) and the page will load as expected.